Held in September, Greater Mankato Area United Way's Human Foosball Tournament welcomes teams to participate in a fun-filled day competing on life-sized foosball courts to benefit United Way programs! 
This event is free for spectators -- all are welcome to cheer on the teams and enjoy the block party.
---
SAVE THE DATE!
2022 Human Foosball Tournament & Block Party
Saturday, September 10
500 Block of South Front St, Mankato
12-5 p.m.
Contact us to reserve your team's spot!
---
Thank you to ALL teams, sponsors, volunteers and in-kind donors that made our 7th annual Human Foosball Tournament possible!
Congratulations to the 2021 Champions: Blethen Berens!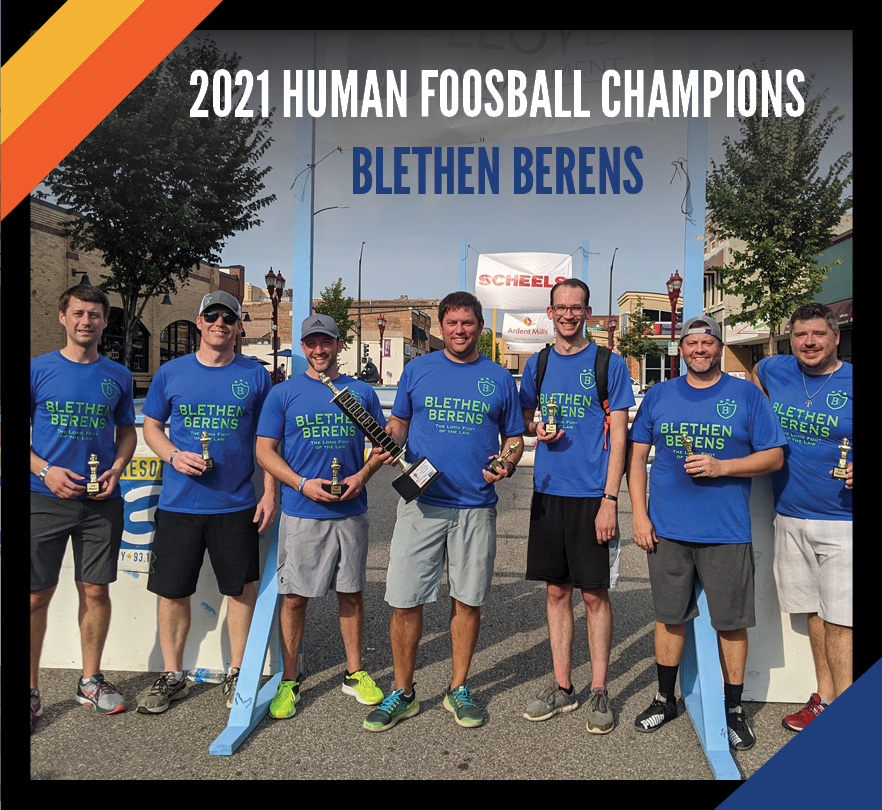 2nd Place: iSpace Environments
SAVE the DATE:
Saturday, September 10, 2022
Event Details
$600 per team

Minimum five players per team

Players age 16+. Players under 18 must have parent/guardian signature.

Each team guaranteed three games

Teams have opportunity to provide a promo item for the player goodie bags (350 pieces needed)
Join in the fun by volunteering at Human Foosball!
Volunteers are an essential part of Greater Mankato Area United Way's mission in building a better tomorrow for all in our four-country region. At our Human Foosball event, we seek volunteers to help the day run smoothly. Below is a list of some of the volunteer opportunities for Human Foosball.
Unload/Set-up Foosball Courts
8 – 10 am
6 Volunteers
Help unload the trucks of the courts for our Human Foosball tournament that day and help get them set up!
Court Referee
11:45 am – 2:45 pm (Shift 1)
2:30 – 5:30 pm (Shift 2)
8 Volunteers
Responsible for assisting Head Referee in running games & enforcing rules.
Court Assistant
11:45 am – 2:45 pm (Shift 1)
2:30 – 5:30 pm (Shift 2)
4 Volunteers
You'll be assisting the referee on your court -- collecting waivers, keeping score, helping enforce rules, etc.
Court Tear Down
4:30-6:30 pm
15 Volunteers
Help us tear down the Human Foosball courts as the tournament wraps up! You'll help us carry the boards from the courts into the truck as well as general event tear-down.
All volunteers will receive a white Live United shirt. Wear comfortable clothing/shoes. Bring your own water and gloves if you prefer. Come and enjoy this fun day!
For more information about getting involved with Human Foosball, please contact volunteer@mankatounitedway.org.
2021: Blethen Berens
2020: Blethen Berens
2019: CCFBank
2018: Blethen Berens
2017: Blethen, Gage & Krause
2016: Heat Blowdry Bar & Wax Studio
2015: Westman Freightliner
Thank you 2021 Human Foosball Sponsors
Court Sponsors




Registration Tent Sponsor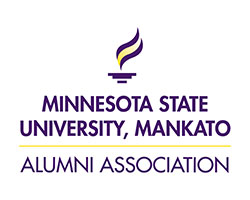 Media Sponsors