Project Community Connect is a collaborative, one-stop resource expo to help reduce barriers and connect people to essential resources and services for a healthier, safer and more stable community. This free event raises awareness of hunger, homelessness and poverty in our region.
By bringing more than 70 service providers to one place, this event aims to provide ease of access to a broad variety of services and knowledgeable service providers to improve lives in our community.
---
Join us at PCC April 19th!
Project Community Connect 2022
Tuesday, April 19, 2022
1:00 - 4:00 PM   
Mayo Clinic Health System Event Center
FLYERS
Thank you to COPAL and Lloyd Management for translations.
Volunteers make PCC possible--thank you for your interest in volunteering!
Please review our job descriptions and sign up for a task. At the beginning of each shift there will be a brief orientation/training. Volunteers must be age 18 or older. Youth ages 16 or 17 can volunteer if part of a school project.  
You will receive more information via e-mail regarding event details in advance of the PCC. Remember to check your e-mail frequently, especially during the week before the PCC. If you are unable to follow through with this commitment, please return to this website to update your assignment by Tuesday, April 12th.
Here's how it works in 3 easy steps:
1. Click this link to go to our invitation page on SignUp: https://signup.com/go/QCeHvTQ
2. Enter your email address: (You will NOT need to register an account on SignUp)
3. Sign up! Choose your spots - SignUp will send you an automated confirmation and reminders. Easy!
Note: SignUp does not share your email address with anyone. If you prefer not to use your email address, please contact Kate at Kate.hengy-gretz@lssmn.org.
Vendor registration is currently CLOSED for this event. Please contact Elizabeth Harstad at ElizabethH[at]mankatounitedway.org or 507-345-7279 for more information or to request a booth.
PCC receives strong support from social service agencies, businesses and organizations. A variety of service providers, including staff from local agencies, attorneys, healthcare providers, dental care providers and hairstylists provide direct services at the event. 
Providers include organizations focusing on employment, public health, food shelves, veterans' services, disability, chemical dependency, mental health, women's health, social services, housing, dental, medical and early childhood development.
All attendees receive free grab and go meal. Government ID vouchers and interpreters are available. We also have tables with free resources including hygiene items, blankets and other necessities.
Project Community Connect welcomes hundreds of guests in need of services, as well as 70+ organizations and service providers (booths) and volunteers. Guests experience firsthand that their community cares about them and wants to direct them to services to help them become more stable and self-sufficient.
City of Mankato will provide free transit rides. For transportation Information, call Kate at 507-995-9259.
Community donations are now being accepted for the personal care items distributed to participants of Project Community Connect.
Please consider holding a Personal Care Item Donation Drive at your organization or place of employment. You simply send out a notice to your co-workers asking them to bring in unused personal care items, print this sign, attach to a box, and place the box out to collect donations. 
Donations will be accepted anytime between now and Friday, April 15. Donations can be dropped off at Lloyd Management (135 West Lind Street, Mankato) or if you would prefer to have us pick up your donations, please request a pickup time by emailing Laura at: lstueven@lloydmanagement.com
If you have any questions, please contact Laura at lstueven@lloydmanagement.com.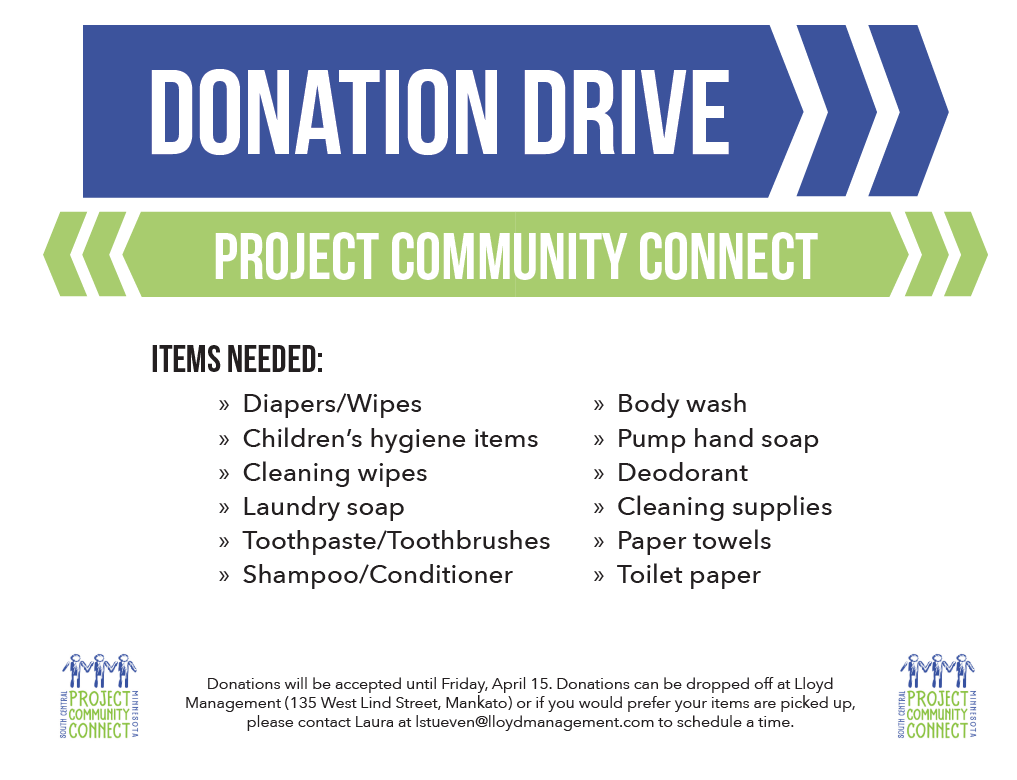 Wish List: 
Diapers
Cleaning wipes
Toothpaste and toothbrushes
Children's hygiene items
Shampoo/conditioner
Body wash
Pump hand soap
Deodorant
Tissues 
Paper towels
Toilet paper
PCC is made possible by sponsors and generous in-kind supporters. This collaborative event benefits from the dedication, generosity and skills of individuals from around our nine-county region. Committees and volunteers include members from regional homeless response teams and various nonprofit organizations, as well as community members and students.
LEADERSHIP BY
Blue Earth County Supportive Housing, Greater Mankato Area United Way,
Lutheran Social Service of MN, Lloyd Management, MN Valley Action Council, Partners
for Housing, South Central MN Multi-County HRA, Southwest MN Housing Partnership