Women with Heart
Each year hundreds of women from across the region gather together to be inspired and united behind a cause.
Join us for the 2020 Women with Heart Event
11th Annual Women with Heart
Wednesday, August 5 
11:30 AM - 1:00 PM
Streamed LIVE via ZOOM! 
This year's event will focus on Finding Hope in Challenging Times. We are excited to welcome a panel of local leaders to share their professional and personal experiences.
Panelists Include:
Dr. Annette Parker
Dr. Katie Smentek
Amy Vokal
Facilitated by Kate Cox, LICSW
Day of Event Important Information:
MOST ATTENDEES ARE JOINING REMOTELY.
Lunch and Event Material Pickup (If you are attending with a Table Host, she will be picking up your lunch and materials)
You will stay in your vehicle when you come to pick up your lunch and event materials. 

Pick up is located in the alley behind the Civic Center (1 Civic Center Plaza, Mankato).

Enter Walnut Street from 2nd Street. Drive toward the white tent behind the Mayo Clinic Heath System Event Center (Civic Center). 

Pick up times:

Tuesday, August 4, 3pm – 5pm

Wednesday, August 5 (day of event), 8:30am – 10:30am
Zoom Login Information
You can log in 15 minutes prior to the program. Our program will begin at 11:30am. 

If you have any issues logging in, please contact United Way at 507-345-4551 and Christine Hodges will be able to assist you. 

Please mute yourself when you enter the event. Our tech coordinators will run the mute and unmute controls throughout the event. 

We ask that you all show your beautiful faces and leave the camera ON during the event. We understand if you are watching and don't have a camera on your computer. 

Another helpful hint: select "Speaker View" on Zoom to keep the program window featured on your screen throughout the event.
A LIMITED NUMBER OF SPONSOR/SPEAKER TABLES ARE IN-PERSON AT THE CIVIC CENTER:
Please be seated by 11:30 a.m.

Masks are required upon entering the building. You may remove your mask when you get to your table. Tables are socially distanced with limited seats. 

You do not need to check-in upon entering. Ushers will show you to your table. There will be a registration table if you still need to pay for your ticket. 

There is free parking in the Civic Center Ramp. There is also parking in the other downtown ramps. Handicapped parking is available in designated areas. Visit the Civic Center webpage for more information.

This is the first pledging event of the 2021 Campaign! At your seat, you will find an envelope with your pledge form enclosed. We will go through the pledge form together during the program. We do our best to ensure all of your information is accurate; please mark if anything needs updating.
Tickets $25 per person includes:
Lunch by Najwa's Catering
Live program focusing on Finding Hope in Challenging Times
Special gift from the Women with Heart committee
Chance to win door prizes
Opportunity to pledge your 2021 donation via paper or electronic pledge form
Become a Virtual Host
Host a group of up to ten women
Decide on a host location
You'll want to have a computer or TV screen and stable internet connection to log in and watch the live event
Be creative on the location! Some ideas include:
At your home – such as driveway, porch or garage
Your workplace conference room
Contact United Way if you need help finding a host location
Table Hosts can pick up lunch and materials from the Event Center the morning of August 5 or we can deliver. Delivery tips will go to Greater Mankato Area United Way.
A VIRTUAL Q&A HOSTESS SOCIAL WILL BE HELD AT NOON, JULY 22. HOSTESSES WILL BE ABLE TO TEST THE PLATFORM AND ASK QUESTIONS.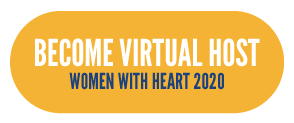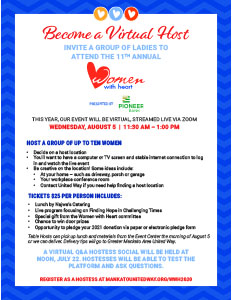 Presented by: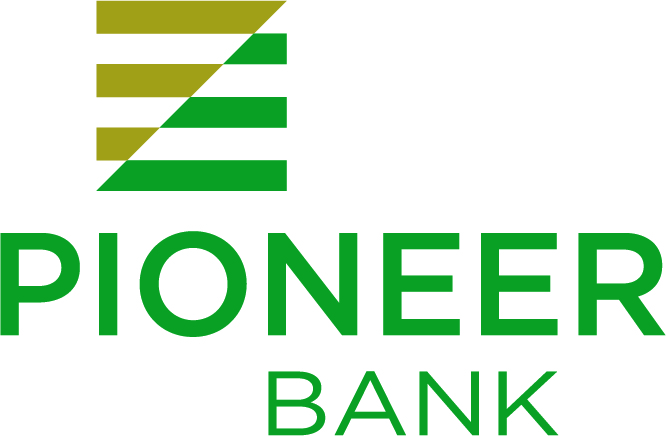 Event Sponsors:
Supporting Sponsors: