An ultimate reality about aging is that many people believe growing older is sad. We tend to think that a person becomes less passionate, less active or less joyful as they age. The truth is, many older adults (most now included in the Baby Boomer generation) are looking for (ways to bypass this stereotype) by actively volunteering and giving back to their communities.
Common Good RSVP, a United Way-funded program, helps link retired individuals age 55+ to such meaningful volunteer opportunities, engaging them in meeting basic needs of the lives of people living, essentially, right in their own back yards.
What is Common Good RSVP?
Common Good RSVP is a program of Catholic Charities of the Diocese of Winona whose purpose is to provide older adults with life fulfillment while also mobilizing volunteers who want to serve important tasks for the sake of the community well-being.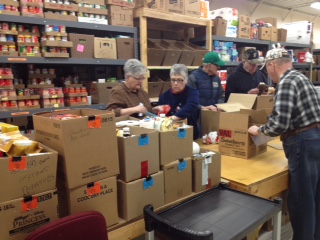 RSVP's Regional Program Coordinator, Lora Brady, explains that the ultimate goal of the program is achieved by placing retired volunteers in meaningful activities in areas such as food assistance, educational assistance, creation of healthy and independent senior living, and veterans' support. Their staff and volunteers serve people of all faiths and cultures, ages and needs.  
Common Good RSVP connected over 800 volunteers to critical missions in all of their service areas. In the same year, with the help of partnering agencies, RSVP supported its volunteers with more than $57,000 towards insurance coverage and mileage reimbursement.
RSVP volunteers work hand-in-hand with many programs and agencies throughout the 16-county service area in Southern Minnesota. ECHO Food Shelf is one of those key partners, boasting over 30 RSVP volunteers. RSVP collaborates with such agencies as ECHO by mobilizing volunteers with life experience to help meet critical gaps in areas such as food assistance. According to Minnesota Compass approximately 17 percent of the population in RSVP service counties lived in poverty in 2013. Food distribution programs like ECHO's help to eliminate the food insecurity problem by providing free food to people in need using volunteer assistance. 
Marcia Olauson was introduced to Common Good RSVP through ECHO Food Shelf.  She is now an RSVP Volunteer Leader and an ECHO board member. She focuses her time on ECHO's newest endeavor, "ECHO Delivers," and has also seen the expansion of ECHO's much-needed assistance. 
A new challenge
While providing food assistance services, Marcia encountered an unexpected issue that became a broader client need. 
"One day I noticed one of our long-time clients getting her groceries at ECHO," says Marcia, who was surprised to see that the woman was not taking all the food she had on her shopping list. As it turned out, the woman simply could not physically carry all of her food home. Marcia discovered that others were experiencing the same challenge. However, a food delivery option was not available due to a lack of funds. Thanks to some ingenuity and dedication from Marcia, as well asher church's support, ECHO Delivers was born.  
Common Good RSVP partnered with ECHO to help recruit drivers to deliver food and provide them with mileage reimbursement. Currently, ECHO has more than 150 volunteers. Together with Marcia and many RSVP volunteers, ECHO serves approximately 1,620 households and distributes 103,000 pounds of food each month in the Greater Mankato area. 
Born to fix the world 
Marcia emphasized that the reason behind the  eagerness of today's retired people to be active and give back is that the majority of them belong to the generation of Baby Boomers. 
"Baby Boomers were born to fix the world," smiles Marcia. "They can never rest; they are always passionate about the idea of doing or trying something new." 
Marcia herself is a great example of that statement. After enjoying the sunshine and relaxation of Palm Springs for a time, she realized her life was missing something. "I was eating good food and having fancy drinks, but then I started questioning myself. Where is the fulfillment in doing all that?" 
That lifestyle, Marcia decided, was just too boring. It wasn't long after that she moved back to Minnesota, and joined ECHO's corps of volunteers. Marcia is just one of the 300,000 RSVP volunteers nationwide who prove that age does not matter if a person has that bright spark of motivation to make a difference in the lives of others. It's that spark that drives them to give back to their communities through programs such as Common Good RSVP and ECHO.
With the support of United Way dollars, RSVP constantly improves its services to make people's lives better. Its dedicated volunteers never look back, but continue to give back. According to Marcia, this commitment to helping others comes naturally to many of our region's older adults. "That's who we are," she says.